Summer is upon us and each year we're reminded of a scene from Parks and Recreation.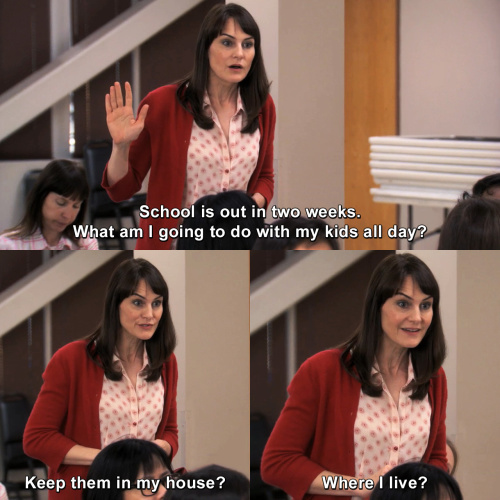 Of course we love our kids. But summer is an enormous open canvas of time that can be hard to fill. And you're trying to work. When are your kids going to interrupt you? When you're busiest for sure!
To help fill some of that time, and help you keep your sanity for the next couple of months, we called in our Dad Community to lend their ideas to the rest of us.
Move On Out. Dads are utilizing summer to hit up the park, the beach, and splashpads. To add some variety, one contributor mentioned that he and his son take their bikes to a new park every week to ride together. They're getting exercise and exploring parks they haven't been to before.
Lions, and Tigers, and Bears—Oh My. Have zoo, will entertain kids! The summer is a great time to buy passes. A lot of zoos offer indoor shows as well which are great for those occasional rainy days. Museums, aquariums, and trampoline parks are also great places that sell memberships – and they all tired kids out, making you feel a bit better if you let them veg out afterwards.
Fun Projects. It's time to channel your inner Bill Nye. Several Dads reported that they do a lot of "experiments" with their kids in the summer. Whether it be making Goo/Slime or the classic baking soda and vinegar volcano—these ideas are always a crowd-pleaser. It also doesn't hurt to stock up on things like kinetic sand or play-doh.
Household Work. Let's build responsibility and accountability! It could be chores, helping prepare meals, or working outside, but involving kids in the day-to-day of the home was really important amongst Dads to instill a good work ethic and make sure things were getting done.
Let Them be Bored. While filling up your childrens' days can be fun and rewarding, it can also wear you out. It's perfectly fine to send your kids out to the backyard to use their imagination and create things to do (while giving you a break). Or don't tell them anything and see where their minds take them (device-free, of course). Figuring out what to do when there's nothing and everything to do is skill every adult needs to learn – start them young!
While the beginning of summer can feel a bit daunting as a parent, just remember, take each day as it comes and don't put so much pressure on yourself to create the perfect summer. HAGS!
For more articles, podcasts, and resources, sign up for our weekly newsletter, 'The Dad'!
Contributors:
@weary_dreamer, @ligmascrotum, @doctorboredom, @adadathome, @acmm15, @sadsongstreet, @kinghart_OG, @jah-brig, @blewdleflewdle, @foxable, @mrcreeky, @affectionateflower3