Lessons on Stereotypes from A Fathers Meet-up in Los Angeles
There's the bumbling dad, the angry dad, the abusive dad, the absent dad, the tough-guy dad – at least that's how many fathers are seen on television, put into these stereotypical categories. When they are seen helping out at home, it's usually in stereotypical masculine roles – like fixing something or doing yard work – while mothers are more typically seen washing dishes or caring for children. 
This isn't anecdotal. These are some of the findings in a new report released this week by the Geena Davis Institute on Gender in the Media in partnership with Equimundo: Center for Masculinities and Social Justice, a global nonprofit that promotes a more caring vision of men.  
The event was the culmination of a day-long convening in Los Angeles of leaders of various fatherhood organizations, including Fathers Incorporated, Fathering Together, the National Fatherhood Initiative and the At-Home Dad Network as well as researchers and writers in the space. (As the founder of The Company of Dads, I was grateful to have a seat at the table.)
It was a diverse group that came at fatherhood from many different approaches. But the through-line was stereotypes are harmful – and hard to break.  
Take the one that men are loners and become harder to reach as they age. "Men don't join, but they do connect with their own interests," said Kenneth Braswell, chief executive of Fathers Incorporated. "Instead of looking for allies, we should be looking for partners."
Braswell added that part of the problem is men getting stuck in roles they think they need to inhabit, even when those roles aren't productive or may not even reflect what a man wants to be as a father. The shorthand label for this is being stuck in the man box.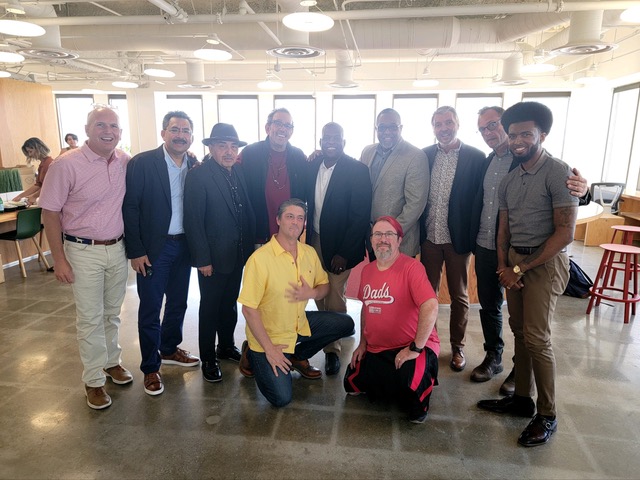 Sitting at the convening, I offered the perspective of the mostly suburban fathers who have joined The Company of Dads. The man box that we're trying to break down, fold up and recycle into something more productive is that men need to be the higher earners, that care is left to mothers, nannies and babysitters and that any deviation from this set-up challenges accepted norms of masculinity. 
The fathers who have joined The Company of Dads clearly aren't worried about this, but like any new venture they're the early adopters. Our challenge is to reach those men who are Lead Dads but keeping it a secret as well as those fathers who want to learn some tips from the Lead Dad community, even if their schedules don't allow them to be all in themselves. 
There's data to support the benefit of being more involved. Gary Barker, chief executive of Equimundo, said the group's research showed that women do 3.5 times more of the daily carework at home but in households where men are more involved there's greater individual and family happiness. 
"Caregiving is at the heart of healthy masculinity," he said. "More care in the home leads to less violence. But the question is: how do we change this notion that care is feminine and that work outside the home is masculine?" 
How dads get presented on television is part of the effort to change the cultural perceptions. Geena Davis, the actress, echoed her foundation's tag line in her opening remarks: "If she can see it, she can be it." Same goes for Lead Dads and every other type of father: positive public images help normalize what we're doing.